Co-Worker show at River House highlights visual call and response – BG Independent News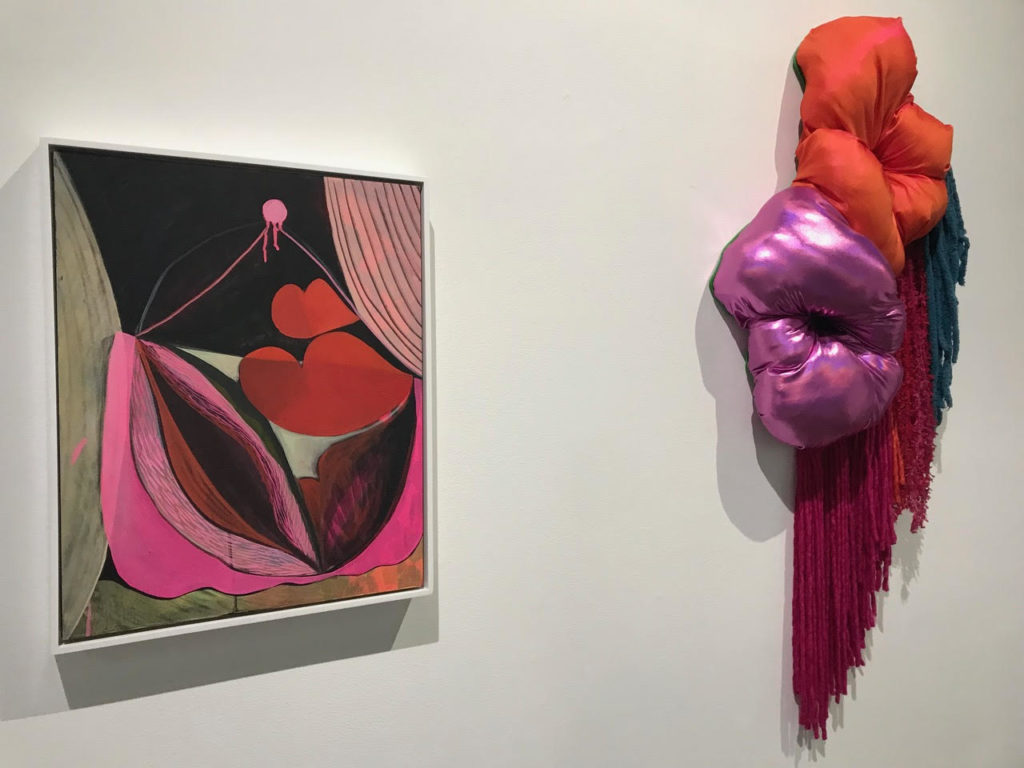 By David Dupont
BG Independent News
Co-Worker Gallery curators Jordan Buschur and Crystal Gale Phelps have a lot more territory to cover when visiting their latest exhibition "Double Time" at River House Arts.
Back when they started the Co-Worker Gallery, it was just that – a corner in the office they shared at the Toledo Arts Commission.
The concept was that one of them would select an artwork and the other would choose another as a commentary on the first. A visual art call and response.
"After that, we would talk at length together about the artwork and how it complements each other conceptually and is conversational in the same way that we chat daily in the office," Phelps said.
The gallery existed in this corner and on Instagram. Each pair of works would be presented for two months. Curators would alternate the roles of selecting the initial play and selecting the response.
"When the pandemic happened, our office closed and we moved away," Buschur said. "So that ended Co-Worker because we didn't have that corner to work in anymore. In many ways, it felt like the rug was being ripped out from under you, and our little hobby Co-Worker Gallery project was something we put on hold.
The two women have now changed jobs – Buschur teaches drawing at the University of Toledo and Phelps is marketing manager at the Toledo Museum of Art – but their dedication to the project has persisted.
"We didn't know how it would come back, but we knew we wanted him back," Buschur said. "We had the idea that we wanted to do a bigger show. We both worked with Paula (Baldoni) and River House, so we approached her and she was in. … We kind of catch up on time lost.
Now, instead of working twice every two months, she says, "it's like two years are worth the whole thing in one room."
"Double Time" is now on display at River House Arts, 425 Jefferson Ave. in Toledo. On Sunday, June 12 at 3 p.m., Phelps and Buschur will offer a talk and tour of the exhibit.
At the end of May, they saw the show for the first time after it was hung in the River House space.
"We have a lot of conversations about artists that we think are good couples," Phelps said. "We also reached out to artists directly and asked them to submit artwork for the concept."
Another distinguishing feature of the show is, said Phelps, "we only show female or neutral performers".
The gallery allows each pair to have their own space.
Some of the links are obvious.
Phelps selected fabric sculpture "Ramblin'" by Akron artist Abby Cipar and Buschur responded with "You Can't Kill the Begonia," an oil on panel painting by Washington DC's Kate Sable
Phelps said she liked "the overall flow and energy of everyone", adding that "the way the fabric lines speak to the paint lines is really delightful".
And both use body images, Buschur said. "But they do it differently."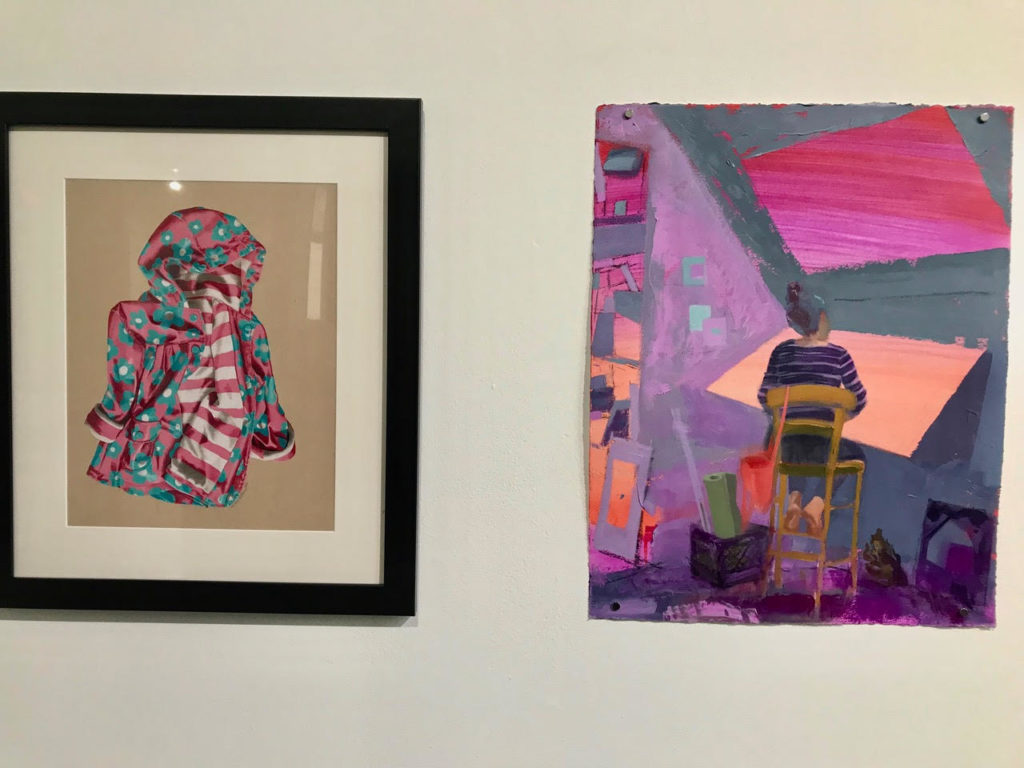 Sarah Dolan, from Washington DC, and Suzanne Schireson from Providence, Rhode Island, employ characters away from the viewer.
In his colored pencil drawing "Flower Raincoat", Dolan plays on the absence of the figure, Buschur noted. As Schireson, in his oil on paper painting 'Skylight Desk', the figure turns away from the viewer.
Both use complementary color schemes of pink and aquamarine.
Other pieces feature strong contrasts.
Bowling Green artist Carrie Day's 'High As a Loon' ceramic wall hanging with her two creature children is paired with 'Untitled Bachelorette with Skills', a multimedia work on bed sheet by the Turkish-born artist Hale Ekinci.
How are these characters – Ekinci's wife confined to her household chores and Day's maniacal critters – related?
"Part of it is the mystery of figuring this out," Phelps said. "That's the fun part of putting it all together and solving these puzzles, and solving these puzzles that don't have an answer."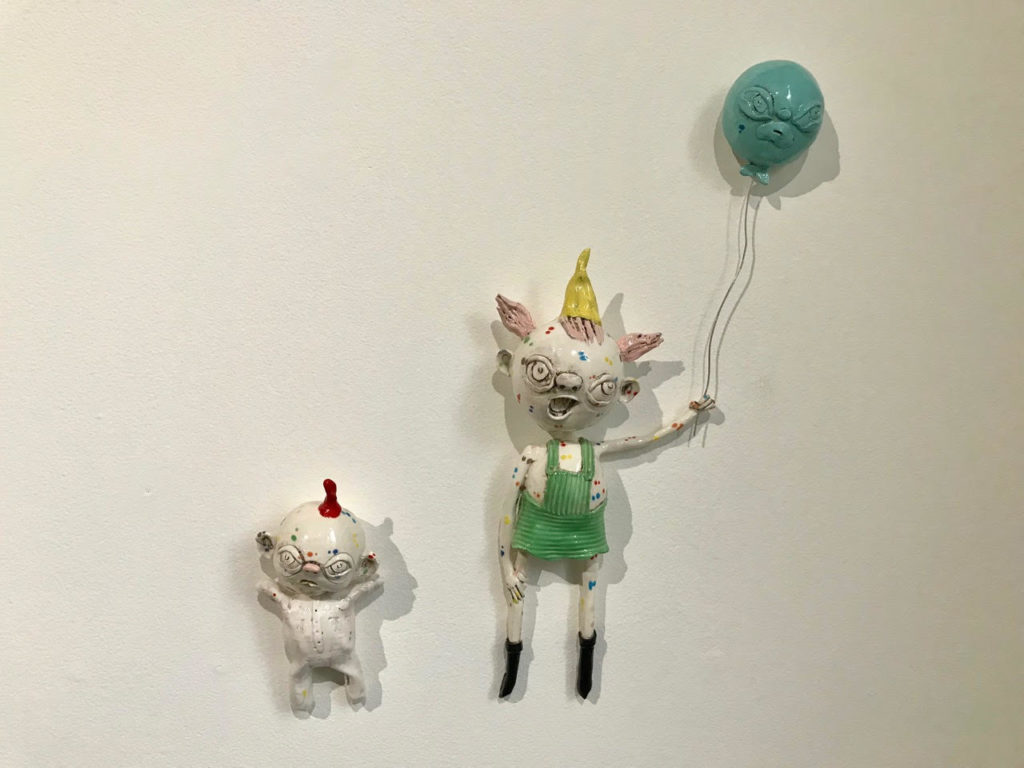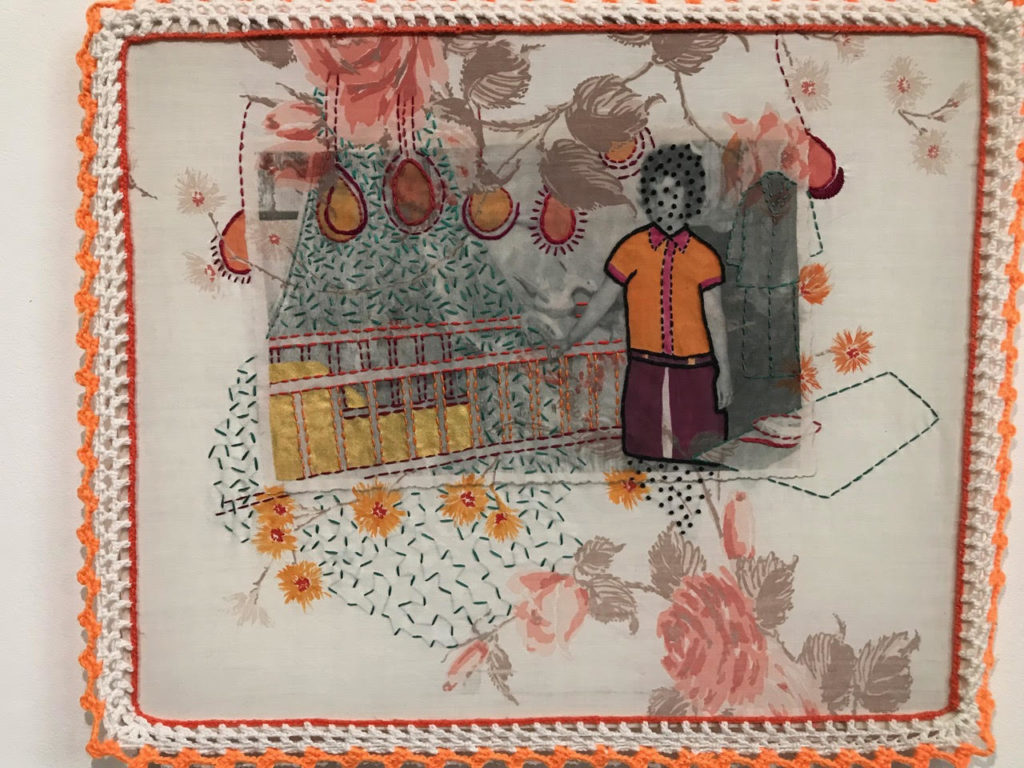 Buschur and Phelps may have their ideas about the connections, but viewers are free to think for themselves how the two artworks generate energy between them.
Energy is what brings together Hamtramck artist Jessica Frelinghuysen's photo "50 Pounds of Onions (from Hometown Workout Series)" and Queens, New York's "best friend" artist Keisha Prioleau-Martin, Frelinghuysen is featured at a local market bag of onions while acrylic painting "Best Friend" captures the joy of a girl speeding on her bicycle.
That exuberance is what connects them, Buschur said.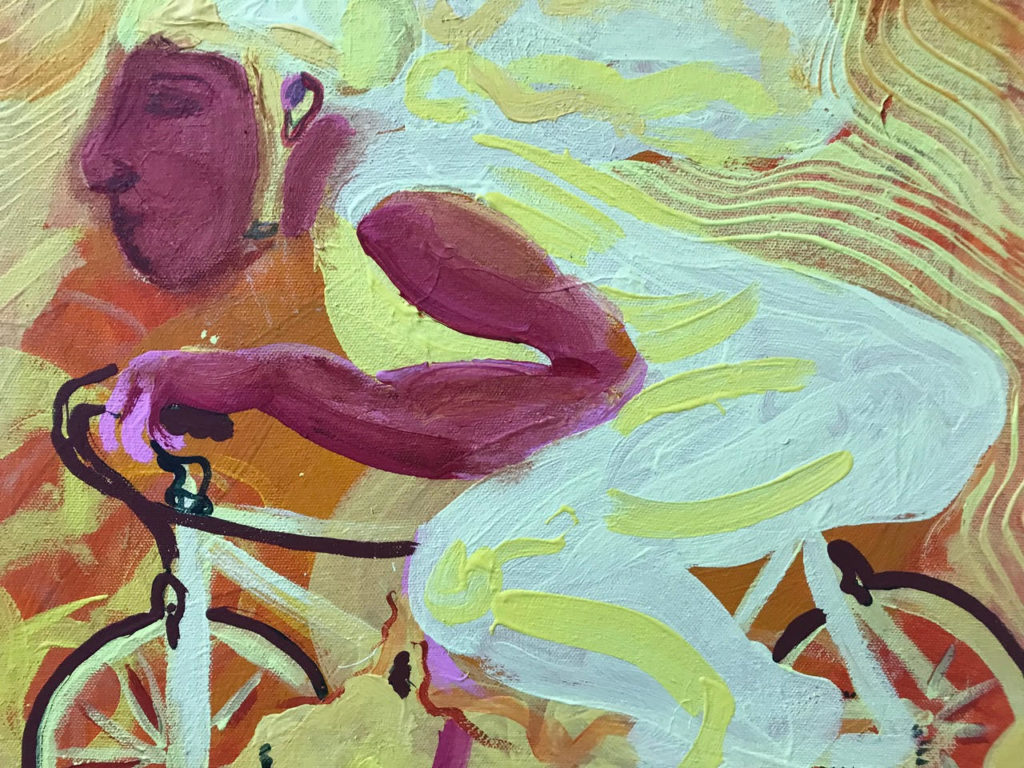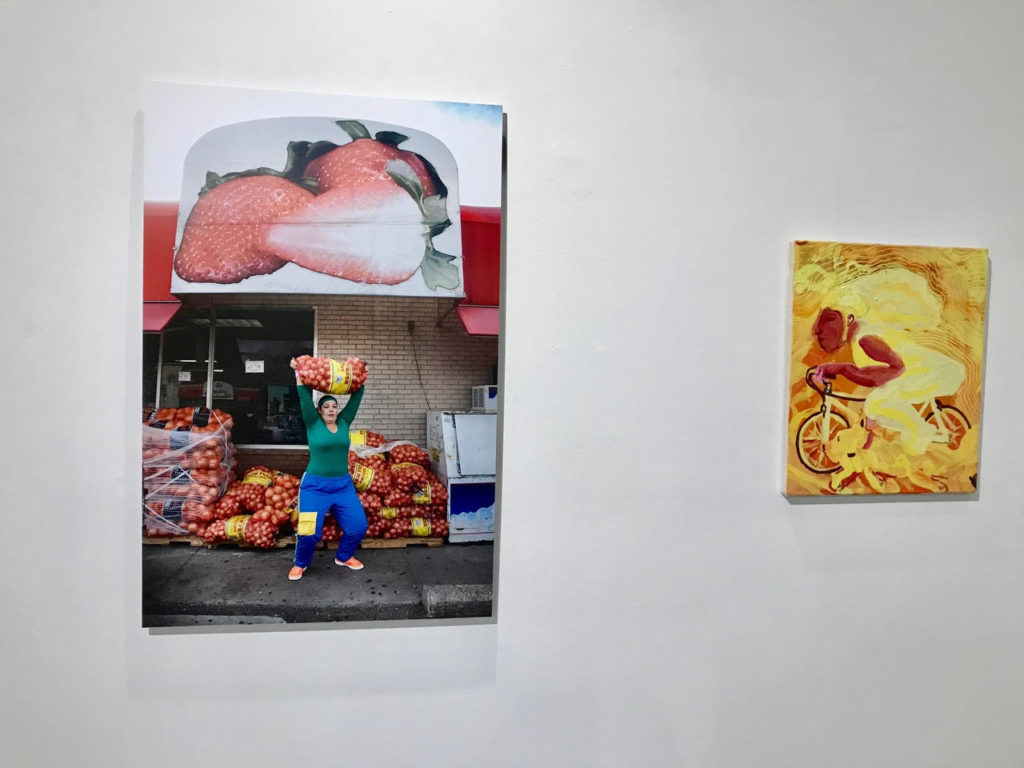 Other artists with an exhibition are: Phoenix Brown (Milwaukee, Wisconsin), Jaqueline Cedar (Brooklyn, New York), Cecile Chong (New York), Marcy Ellis (Arizona), Echo Goff (Troy, New York), Adriane Herman ( Portland, Maine), Jane Kang Lawrence (New York), Kirby Miles (Chattanooga, Tennessee), Janet Nelson (Ypsilanti, Michigan), Tessa G. O'Brien (South Portland, Maine), Rachel Ostrow (Brooklyn, New York) , Lina Puerta (New York), Dayna Riemland (Ontario) and Amy Sacksteder (Detroit, Michigan/Long Island City, New York),
The exhibition continues until July 2. Visit the River House Arts webpage to schedule a visit.